RMMA Concert September 1, 2018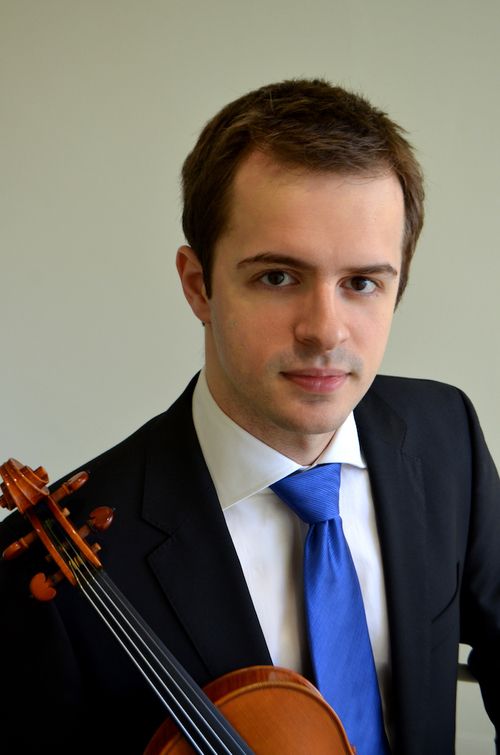 GEOFFREY HERD
Violinist Geoffrey Herd has given performances in the United States, Latin America and Asia, and is frequently sought after as recitalist and chamber musician. Mr. Herd has performed recitals at venues such as the Isabel Stewart Gardner Museum of Art in Boston and Carnegie Hall's Weill Recital Hall. An avid chamber musician, Mr. Herd has collaborated with some of the finest musicians of our time including Ani Kavafian, Clive Greensmith, James Dunham and Laurie Smukler. Mr. Herd has also performed concertos with numerous orchestras including the Rochester Philharmonic, the Thailand Philharmonic, the Cayuga Chamber Orchestra, the Ithaca College Symphony, the Amherst Symphony, the Finger Lakes Symphony, the University of Tennessee Symphony Orchestra, and the Longmont Symphony.


A strong proponent of new music, Mr. Herd was a founding member of the contemporary music ensemble Vicennium Void. The group was the dedicatee of many works and were Artists-in-Residence at the Thailand International Composition Festival in June 2014 and 2015. Mr. Herd returned to the festival in 2016 as a soloist with the Thailand Philharmonic performing John Corigiliano's Red Violin Concerto. Additionally, Mr. Herd has given a number of premiers including the NY premier of Pierre Jalbert's Wild Ambrosia, and world premieres of Daniel Knagg's Ancient Ruins, and Chris Walczak's Incorporeal Spaces.
Equally committed to expanding the reach of classical music, Mr. Herd is the founder and director of the Geneva Music Festival in the Finger Lakes region of New York State. Each summer, the Festival presents internationally acclaimed artists in venues throughout the Finger Lakes and has quickly become one of the area's leading arts organizations. The festival also champions diversity in the arts through culturally diverse programming and donates educational concerts to local school districts.
Mr. Herd joined the faculty at the University of Tennessee-Knoxville in August 2016 where he has built a thriving studio, attracting students from around the globe. His students frequently participate in some of the nation's top music festivals including the Aspen, Brevard, Sarasota, and Wintergreen festivals and are frequent competition winners throughout the country. Mr. Herd studied at Rice University, Yale School of Music and the Cleveland Institute of Music with Ani Kavafian, Paul Kantor, William Preucil and David Updegraff.



Colorado-based flutist Aaron Pedue has performed as a soloist, chamber musician, and orchestra member throughout the United States in great venues such as the Kennedy Center, Carnegie Hall, and Severance Hall. He was selected to appear as Young Artist in Residence on Performance Today, an American Public Media radio series hosted by Fred Child. He has won top prizes in a number of competitions including the Hellam Young Artist Competition and the Young Texas Artists Competition. He has spent summer seasons with the Spoleto Festival USA, the National Repertory Orchestra, and Music Academy of the West, where he spent three summers and appeared as a concerto soloist. As a Da Camera of Houston Young Artist Fellow, Aaron acquired the skills and passion for engaging a wide variety of audiences. Aaron received his bachelor's degree at Carnegie Mellon University, studying with Jeanne Baxtresser. He completed his master's degree at Rice University and is currently a doctoral candidate there, under the guidance of Leone Buyse. Aaron serves as the Associate Pastor at Charis Christian Center in Colorado Springs, CO. Outside music and ministry, Aaron enjoys cycling and hiking with his Scottish terrier, Winston.


MAX GEISSLER
Praised for his "superb artistry and beautiful sound", cellist Max Geissler is currently pursuing his Doctor of Musical Arts degree at Rice University under the tutelage of Desmond Hoebig. Max has been recently appointed as the cellist of the Chicago-based new music ensemble Latitude 49 and is a highly sought-after chamber collaborator.
Before his studies at Rice, he earned his undergraduate degree from the University of Michigan working with Richard Aaron. Previous mentors of his have also included Catherine Lehr-Ramos of the Saint Louis Symphony and Michel Strauss during a semester of study abroad in Paris.
Max is devoted to the chamber music literature and takes any opportunity he can to better acquaint himself with the repertory and enthusiastically share it with audiences. He has worked closely with and performed alongside chamber musicians such as Jon Kimura Parker, Brian Connelly, Desmond Hoebig, James Dunham, Timothy Pitts, Benjamin Kamins, and Laurie Smukler.

As the former principal cellist and project manager of the conductorless string orchestra KINETIC, Max assisted in building the nonprofit from the beginning and strongly advocated for the ensemble's communicative chamber music making in the Houston area. Additionally, Max is dedicated to collaborating with composers, having premiered several pieces for solo cello, string quartet, and chamber orchestra. He has performed regularly as a part of the new music organization MUSIQA in Houston, as well as alongside Brian Connelly on his chamber music series, Music in Context.



Wolfgang Amadeus Mozart (1756-1791)
Piano Quartet No. 1 in G minor, K. 478

Allegro
Andante
Rondo

Jacques Ibert (1890-1962)
Two Interludes
Piano, Violin and Cello

Intermission

Felix Mendelssohn (1809-1847)
Piano Trio No. 1 in D minor


Molto allegro ed agitato
Andante con moto tranquillo
Scherzo: Leggiero e vivace
Finale: Allegro assai appassionato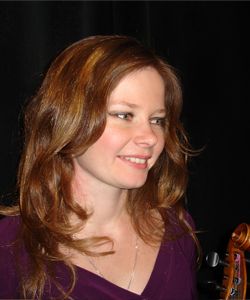 EKATERIANA DOBROTVORSKAIA
Violist Ekaterina Dobrotvorskaia was born in the historic Russian town of Vladimir to a family of musicians. She started playing violin at age five, and at age ten was accepted to the Central Music School for musically gifted children at the Moscow State Conservatory. Ms. Dobrotvorskaia graduated from the Central Music School in viola performance in 1993. She received a MM in music performance from the Moscow Conservatory in 1998, with certificates in solo, chamber, and orchestral performance. Her education also includes special training in music pedagody. She studied viola with Galina Vakhromeeva-Odinetz, one of the leading viola professors in Moscow. Additionally, Ms. Dobrotvorskaia pursued chamber music studies with Alexander Korchagin of the Shostakovich String Quartet. She has received numerous scholarships and awards and was selected by the Moscow State Conservatory to attend master classes in Russia and Europe. Ms. Dobrotvorskaia's active performing career has included extensive tours of Australia, Israel, Cyprus, Switzerland, France and Germany. She has performed as a member of the Tempera String Quartet. This quartet was selected from an international pool of applicants to represent Russia for a competition in Melbourne, Australia. Ms. Dobrotvorskaia served as Principal Violist of the Amadeus Chamber Orchestra in Moscow. Other performing credits include the Moscovia Chamber Orchestra and the Russian Philharmonia Symphony Orchestra.



Ms. Dobrotvorskaia joined the Veronika String Quartet in November of 2000. She was Principal Violist of the Pueblo Symphony for 10 years, and an Artist-in-Residence at Colorado State University–Pueblo for 11 years. She frequently makes solo appearances and collaborates with local musicians in chamber music performances. She has been a member of the Colorado Springs Philharmonic since 2008. She coaches the Colorado SpringsYouth Symphony Chamber Program and Sectionals.
Dr. Zahari Metchkov is both a pianist and an organist performing at such venues as New York's Avery Fisher Hall and Washington's Kennedy Center. He has concertized in Israel, Bulgaria and the US. His first CD was released in 2008 - a recording of works for piano and orchestra by Franz Liszt and Cesar Franck and a second recording project featuring solo works for piano and organ was completed in the spring of 2014.

Zahari places a high priority over the education of young pianists and is the President of the Colorado State Music Teachers association. He is a frequent guest adjudicator and clinician to numerous piano festivals in Colorado.

Metchkov is the Artistic Director of the Pueblo Keyboards Arts Festival and Piano Conversations Concert Series, Pueblo, as well as Rocky Mountain Music Alliance Concert Series. He is the music director at Ascension Episcopal church, Pueblo, leading the choir and serving as organist.

Dr. Metchkov is an associate Professor of Music at the Colorado State University, Pueblo, Colorado.